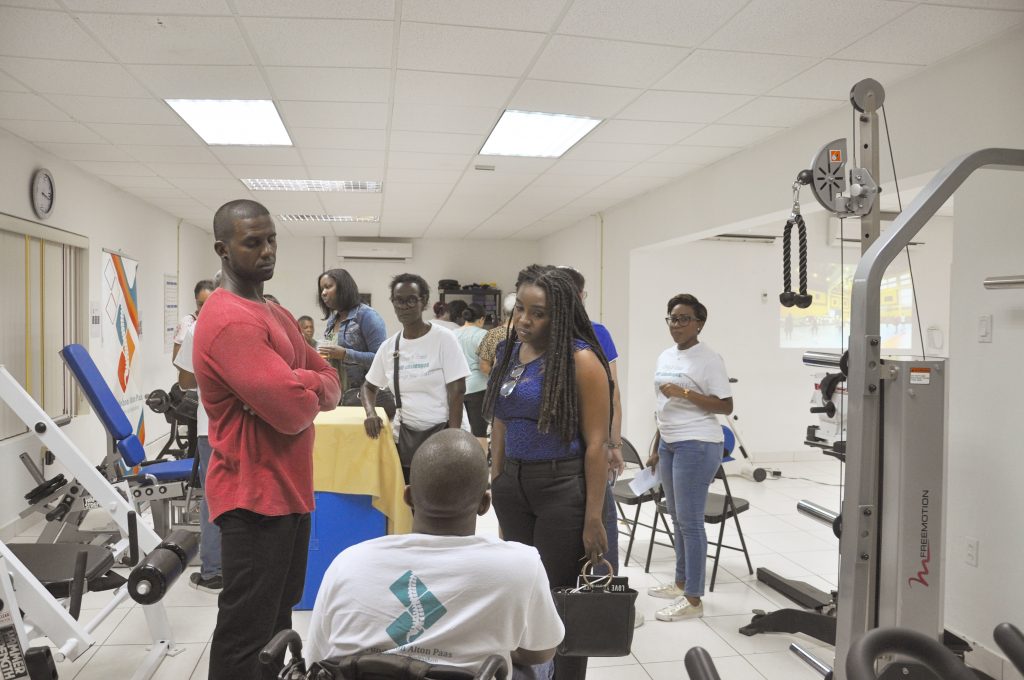 Fundashon Alton Paas is very happy and grateful for the responses since the beginning of the announcement of such event. It was an amazing moment last Saturday as all the guest's was coming in and indeed filling in the whole place for the beginning of the event. Even Friday, the day before the event, we had to close the registration because we couldn't accept more registration. So when the people came pouring in it was a special moment to know that people care and that they are interested in our cause.
The first part of the day was to get to know more about the equipment we have in our facility and they could ask questions to our Fapianos and also some of our members that exercises in our facility.
After a while of mingling and getting to know more about what was going on in our facility at Colon we started the program with our chairman Alton Paas. He told a little of his testimony and how he got a spinal cord injury and to explain why the idea to start the foundation. You could see the guest focused on the information being presented because there are people that didn't know what to expect from that day. After talking about the mission and vision of the foundation Alton shared the bigger picture. Because everything that's being done for the community with spinal cord injury others will benefit from. With that being said he started to present all the different programs and projects the Fundashon Alton Paas is currently working on such as:
ASCI (Exercise facility for people suffering spinal cord injury and other neurological disorders)
Wheelee (accessible transportation)
Several of them were a specific person that came forward to talk about the project or program, why it matters and also their own experience with this program.
The best and most special moment of the day was hearing the testimony of 3 people that comes to the Alton Paas foundation for exercise and as each of them told their story the audience started to really understand the impact of the work being done. Especially those that were there that are already donating monthly. Therefore we are so grateful for the opportunity and also encourage more people to donate and support. Because with the help of others we've managed to get so far and to keep helping we need more people to support. So at the end there were several people interested in our monthly giving program and also asked different questions. That is why we can conclude that there is more work to be done and more awareness created but it's the beginning!