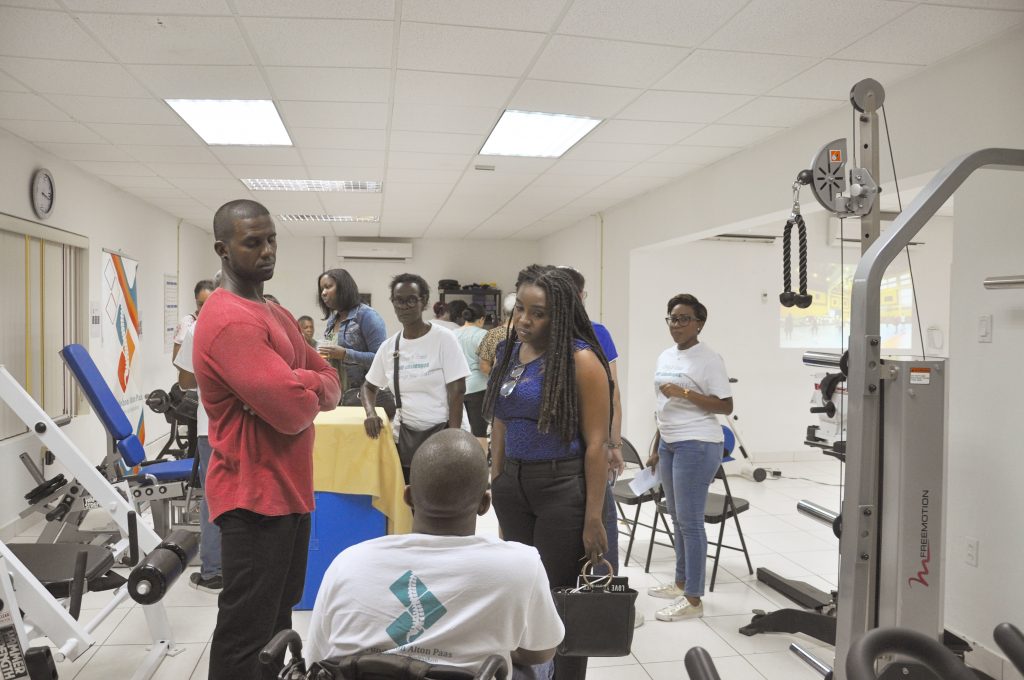 Fundashon Alton Paas is very happy and grateful for all of the positive reactions received since announcing the event. It was an amazing moment to see last Saturday as the guest's started to arrive and promptly filled the entire place to capacity before the start of the event. We even had to close registrations on Friday, the day before the event, because we couldn't take on any more visitors. So, when guests started pouring in, it was a special moment to realize that people care and that they are interested in our cause.
The first part of the day was more of a walk-through of the establishment to get to know more about the equipment we have in our facility and visitors could also ask questions to our Fapianos as well as some of our members that exercise in our facility.

After mingling for a bit and getting to know more about what goes on in our facility at Colon, we started the program with our chairman Alton Paas. He told a little of his story, how he got a spinal cord injury and also explained the idea behind starting the foundation. You could see how focused the guests were, listening intently to the information being presented; several people didn't really know what to expect on that day. After talking about the mission and vision of the foundation, Alton shared the bigger picture: Everything that's being done for the community with spinal cord injury, will benefit others as well. With that being said he started to present all the different programs and projects the Fundashon Alton Paas is currently working on such as:
ASCI (Exercise facility for people suffering spinal cord injury and other neurological disorders)
Wheelee (accessible transportation)
Different people came forward to give a short explanation of several of the projects and programs, to clarify why it matters and also to talk about their own experience with a particular program.
The best and most special moment of the day was hearing the testimony of three of the people that come to the Alton Paas foundation for exercise. As each of them told their moving story, the audience started to really understand the impact of the work being done by the foundation. It was especially enlightening for those present who are already donating monthly. We are extremely grateful for their support and are glad we had this opportunity to show them how their donations are helping people with a spinal cord injury and we hope this will also encourage more people to donate and support. Because with the help of donations and supporters we've already managed to get far, but to keep helping others we will need the support of more people. We were extremely pleased to see that at the end of the day there were several guests who were interested in our monthly giving program and that there were so many questions. We can conclude that there is still a lot more work to be done and more awareness to be created but it was a good beginning!