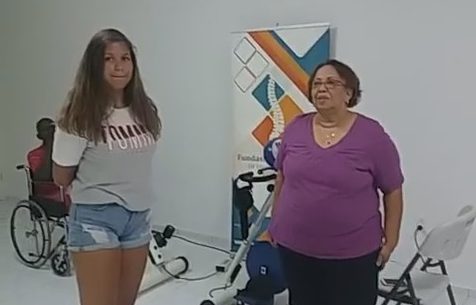 In the month of July 2018, Ana Curiel was on Curaçao with vacation and she thought why not combine her vacation with community work by coming to Fundashon Alton Paas and do community work in the exercise facility of Fundashon Alton Paas.
Ana is 16 years old and born in The Hague. She comes from a mixed family where her father is from Curacao and her mother was born in the Netherlands. Now they live in Delft where she and her sister go to school. Ana is now in 6th year in high school and will be doing the exam at the end of this year. After viewing all her options she chose to study medicine. The universities in which she is interested are asking for more than just high grades, they also want you to be working for society before you study. Ana has chosen to do this by volunteering in the healthcare sector, because that is also the sector in which she wants to start working after her studies.
At first, she heard about Fundashon Alton Paas through family. The uncle of her father, Arthur Curiel, is active at Fundashon Alton Paas. She wanted to do volunteer work when they were on Curacao and when she heard about the foundation, she became very enthusiastic. The reason she finally opted for Fundashon Alton Paas is because she has a huge passion for sports and have first-hand experience of how important good and focused physical therapy is. She also found the stories she heard in her first encounter with Mrs Gilda, a volunteer at the facility, very impressive and she became very curious how it went at the foundation. Back at home she does voluntary work at a 'Thomashuis' that accommodates mentally and physically handicapped people in a family environment. Therefore she does understands about the type of people coming to the exercise facility of Fundashon Alton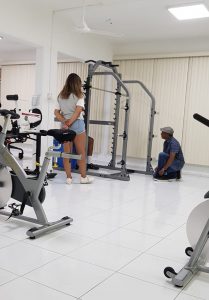 She helped at the facility for two days and was supported by Nelson, another volunteer at the exercise facility. Nelson told her a lot about the equipment's and how they work, but also about the foundation itself. Ana really liked this because it gave her a much better idea of what the foundation does and how important it is. She also liked the fact that Nelson involved her everywhere, instead of just sitting on a chair and watching if she could offer support to the people who came to exercise in those days. A good example of this is that the first day when she came in, she could almost immediately help a gentleman doing stability exercises. This enabled her to actively experience what it is like to work with the foundation and to provide support, which she sincerely liked very much, and she learned a lot from it.
Ana has seen how important it is that support and help is offered after the 'official rehabilitation process' in the hospital/rehabilitation center has ended. She has seen and experienced that Fundashon Alton Paas offers hope, by this she means that the foundation offers a future to people to whom the doctors say: 'sorry, there is nothing more we can do for you'. In addition, she has actively experienced how important exercise is and that it makes a world of difference!
In her own words 'What I especially take away from the Fundashon Alton Paas is that support in the form of volunteers is super important, that exercise is very important for rehabilitation and staying healthy both for people with and without physical disabilities and that your body is capable of much'