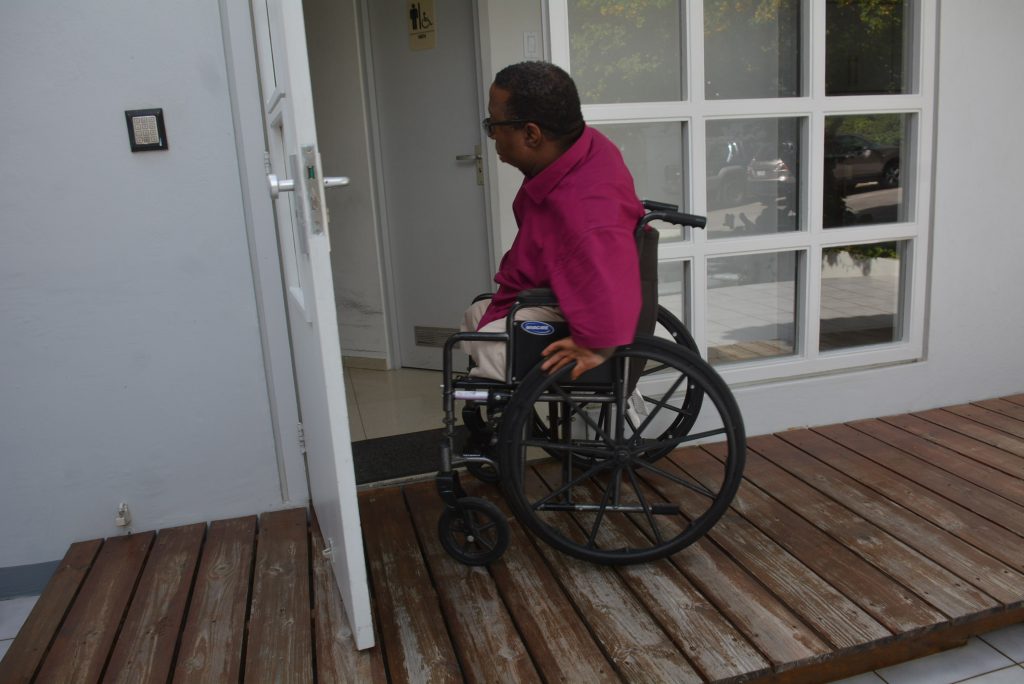 Have you ever had to stop mid-stride and try to figure out how to enter a building? Imagine you reach the front door and suddenly realize that it is three feet off the ground, with no steps. How would you climb through? That's exactly what happens when someone in a wheelchair tries to move around on the island. He or she has to constantly figure out how to get from point A to point B. Sometimes it's relatively easy to reach 'point B', as some buildings have designated handicapped parking slots available, but is that enough? Regretfully, the answer is no. Often, once the wheelchair reaches the front door of a building, there are other challenges to deal with, such as steps with no ramp alongside it, a revolving door or a multi floored building with no elevator.
We spoke to Maaike Versteeg, occupational therapist with her own practice: Ergotherapie Ergom and who also works part time at the SGR rehabilitation center. She was kind enough to explain the three most important features necessary to make a building inclusive for everyone:
Accessibility – Maneuverability – Usability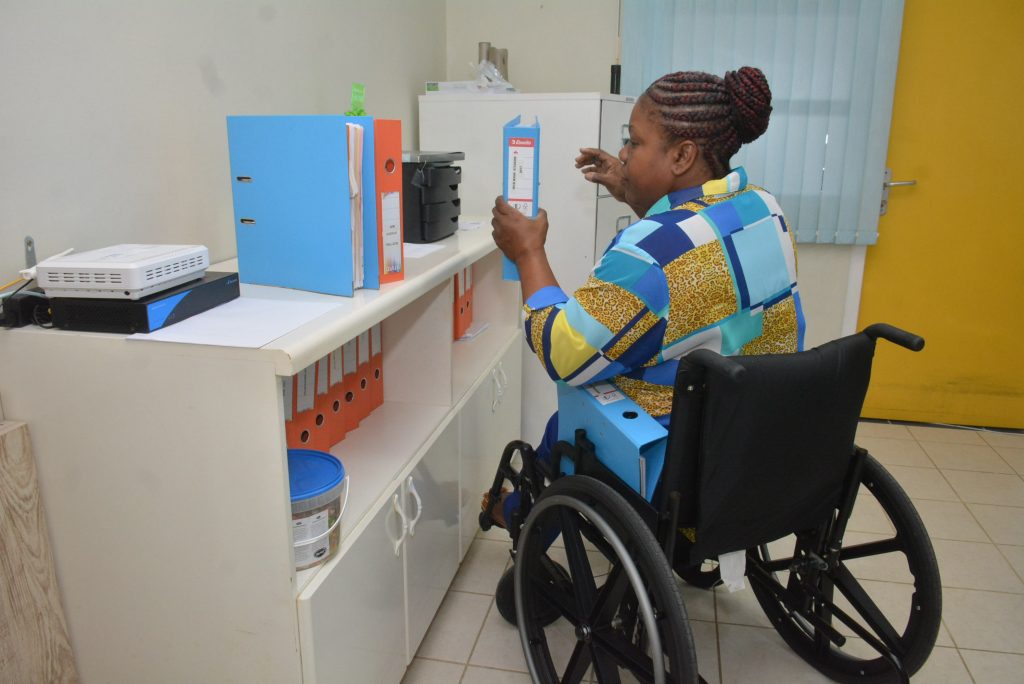 Accessibility: This refers to the ability to reach a building. From the moment you park your car in a handicapped parking space, to the moment you reach the front door. For a building to be considered as accessible, the handicapped parking space needs to be wide enough for the driver to open his car door, lift his folded wheelchair from out of his car and place it next to him, unfold it and hoist himself in it. He then must be able to wheel himself all the way to the front door, with the help of ramps if necessary. Finally he must be able to get through the door by himself.
Maneuverability: This refers to the ability to move around inside the building. You need to be able to maneuver your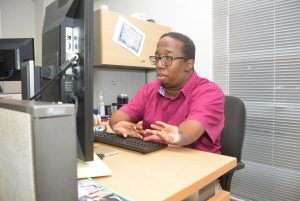 wheelchair to get to wherever you need to go, like turning around objects such as desks, going through narrow hallways or going up to a different floor with the help of an elevator that has doors wide enough to fit a wheelchair.
Usability: This refers to the ability to use the services available inside the building. You have to be able to reach the front desk for example, to sign papers. The restrooms need to have a wheelchair accessible stall with wide doors, a lower sink and grab bars alongside to the toilet.
These are the most basic elements you need to take into account but if you truly want a building to be accessible for everyone, the focus should not only be on wheelchairs but also on other types of disabilities, such as people with walkers or the visually impaired who use canes or guide dogs.
As Maaike explains, "We have this bad habit of wanting to park as close as possible to the entrance and often people ignore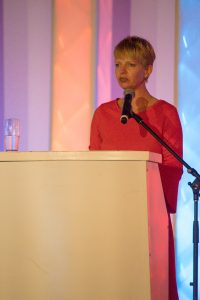 the handicapped parking sign and use it because they assume nobody else will use it anyway but that's simply not true. Times have changed and unlike in the past, people with disabilities no longer 'hide' in the house. They want to go out and about, be a part of the community. The only problem is that every time they leave the house, it's almost impossible for them to get an accessible parking spot because either the building doesn't have one or the spot has been taken by someone without a disability. I would advise everyone to try to go through one day in a wheelchair to better understand the importance of accessibility."
As an occupational therapist, Maaike's aim is to help people with a disability become as independent as possible. She also gives recommendations to establishments on how they can become more accessible. "It's really not as complicated as people think. Sometimes it's just a matter of making small adjustments. There are many youngsters who happen to be wheelchair bound but still want to go out and have a good time just like everybody else; as a community, we should stand together and support all efforts to make establishments accessible," Maaike concludes.
One of the Alton Paas Foundation's missions is to make Curaçao accessible and inclusive for all. Of course there are some places that may take a bit more effort than others to become accessible but everyone should, for example, be able to enter all government buildings; after all, they are there for the people…all people.
That is why the Alton Paas Foundation has published a document that shows the basic measurements and adaptations you can make to welcome all people to your establishment. It is Free and currently only available in Dutch but it will soon be updated in other languages as well. You can click here to download your copy and help make Curaçao more accessible!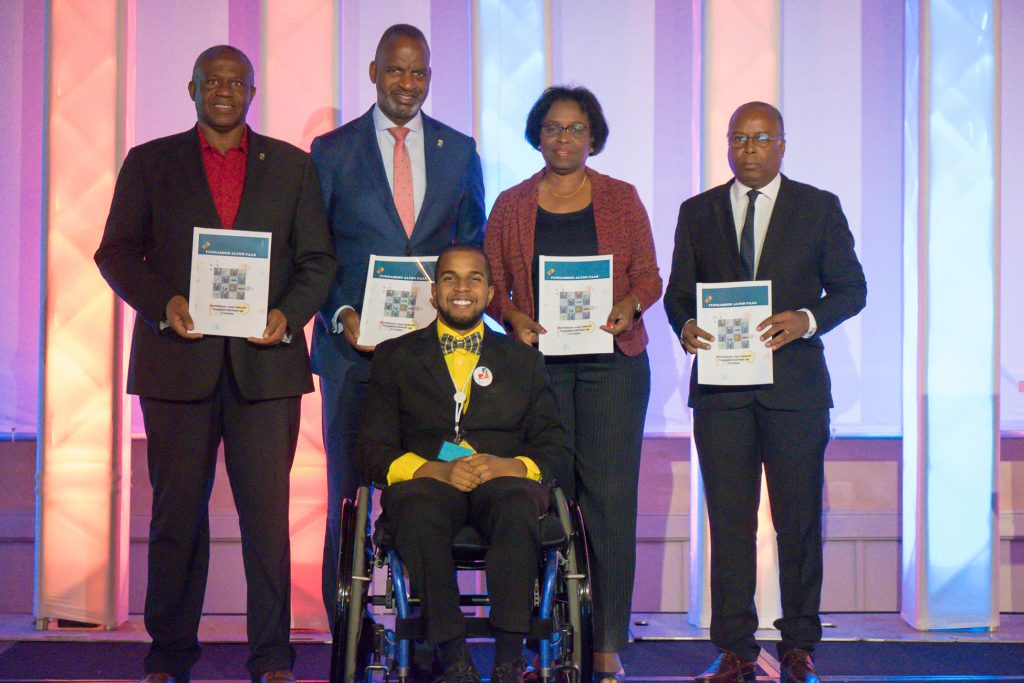 Written by Tamara Neuman