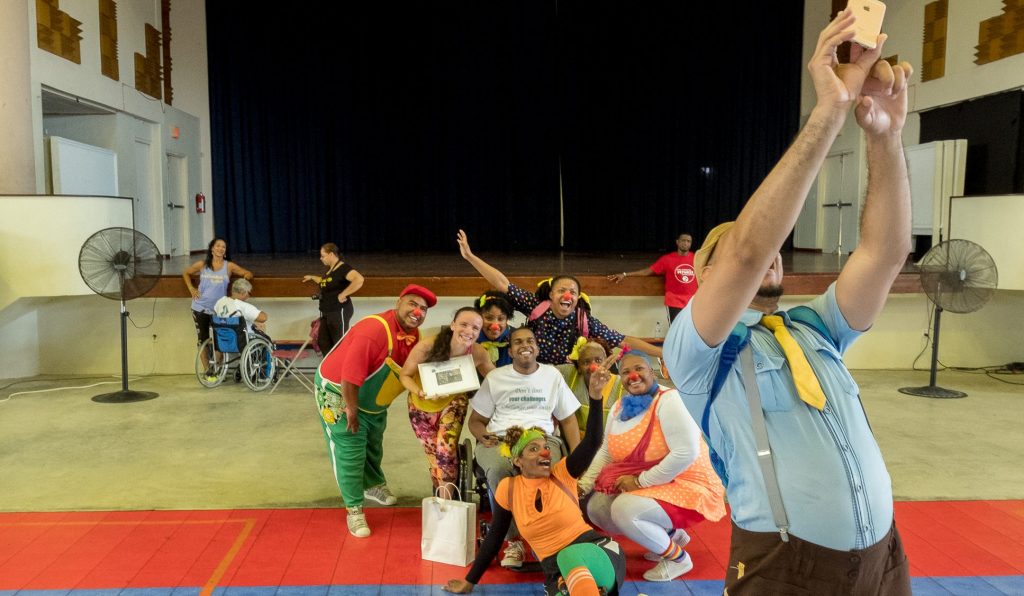 This year marked the fifth anniversary of the challenge and it was better than ever. New to this edition was a 5 and 10 K walk, which was well received by the public. The challenge furthermore included the usual trademarks; an indoor fitness section consisting of eight 45-minute sessions and a group spinning section. The fitness section offered the public different exercise routines for all levels; three easy sessions of yoga, Thai-chi and Pilates, two heavier sessions which was Circuit fitness and Fit Combat followed by Zumba and Pump on wheels. There was also a special sessions for kids ages eight to fifteen were able to enjoy a fitness program adapted especially for them.
The spinning segment was held outdoors on the parking lot of the International School which gave it a fun aspect as more spectators were able to cheer on the spinners. The event sold more tickets than previous years but we're not there yet; the goal is to get as many people as possible committed to exercising and living a healthy lifestyle and in the process also change the general perception about people in wheelchairs.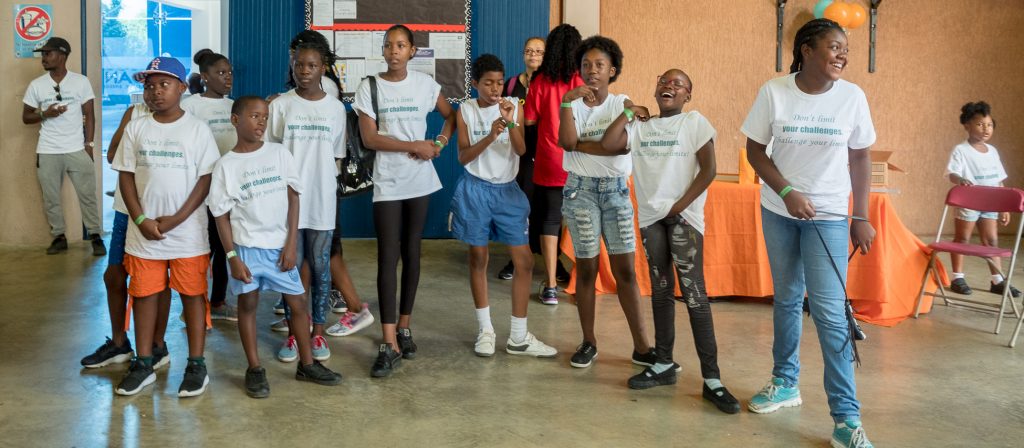 Inclusion at Work
It was wonderful to see everybody integrating and to observe inclusion at work. The Fitness Challenge had a positive effect on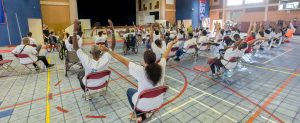 all that were present and that is exactly what this event is all about! We had several companies who sponsored tickets for different groups; youngsters, the elderly and the disabled and we are extremely grateful for their contribution. We consider it a double gift because we not only received the funds from the tickets they bought but by giving these tickets away to the different groups, they also gave others, who might not have been able to afford it otherwise, a chance to participate in the Fitness Challenge. It is an important learning moment, especially for kids, to be confronted with people in a wheelchair and to break with the taboo. It was also wonderful to see the elderly and the wheelchair bound get a chance to get away from their regular surroundings and mingle with other people. Everybody seemed to be having a wonderful time!
Thanks again to the many sponsors, the event also counted with participation by several artists and people from the media who formed groups and challenged one another during the spinning challenge. It gave the morning a fun 'spin'!
"A heartfelt gratitude to @fundashonaltonpaas for inviting me to their Annual Fitness Challenge. Today was a heartwarming day for me to see the efforts by this foundation to provide a better quality of life for people with a neurological disorder. Alton Paas has inspired me by the way he encourages others to see the positive side of any situation. Keep up the good work 'Fundashon Alton Paas'!"-Ray Lauf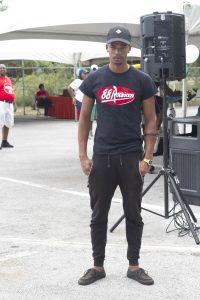 "A healthy body and mind means a healthy and wealthy life. Thanks for keeping us on that healthy path Fundashon Alton Paas!" –DJ Jowie
It was a fun-filled day for everyone and it showed that inclusion works. A heartwarming example of how exactly how well inclusion works, is that of a lady, who having suffered a stroke, had become severely depressed about her inability to move and live as she was used to. Her sister and son were worried about her and they approached us for help. Alton suggested they bring her to the Fitness Challenge to give her the opportunity to interact with others and see that she is not alone. She was given a free ticket to join the event. It took some work, but her brother and son finally managed to convince her to go and the first thing she told Alton when she met him was: 'Thank you.' Simply being among others with similar experiences had given her the courage to open up and interact with those around her. She spent the day talking to these strangers as if she had known them for years!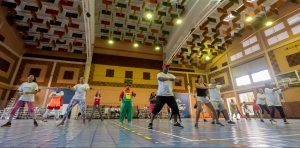 The Bigger Impact
There are many other examples of people who were glad and grateful they had attended the Fitness Challenge because it had either helped them feel more integrated or taught them the importance of integration of the wheelchair community. It gives us a good feeling to know that the Fitness Challenge has had such a positive influence on everyone because it shows that this is not just a fundraiser event but also an extremely important social event.
And the Fitness Challenge did not only impact the participants but the volunteers as well. During the event evaluation all volunteers and the 'Jolly Walkers' expressed their willingness to help again next year, for which we are, of course, extremely grateful. This year we gave a commemorative plaque of merit to three of the instructors to thank them for their dedication to 'Fundashon Alton Paas'; they helped us during all five of the Annual Fitness Challenge.
The Fitness Challenge has the potential to grow into an even bigger event; it has shown the positive effect it has on all participants and it could make a world of difference to people with a neurological disorder. The next Fitness Challenge will be held again in March of next year, so stay tuned and make sure you don't miss it!
Fundashon Alton Paas