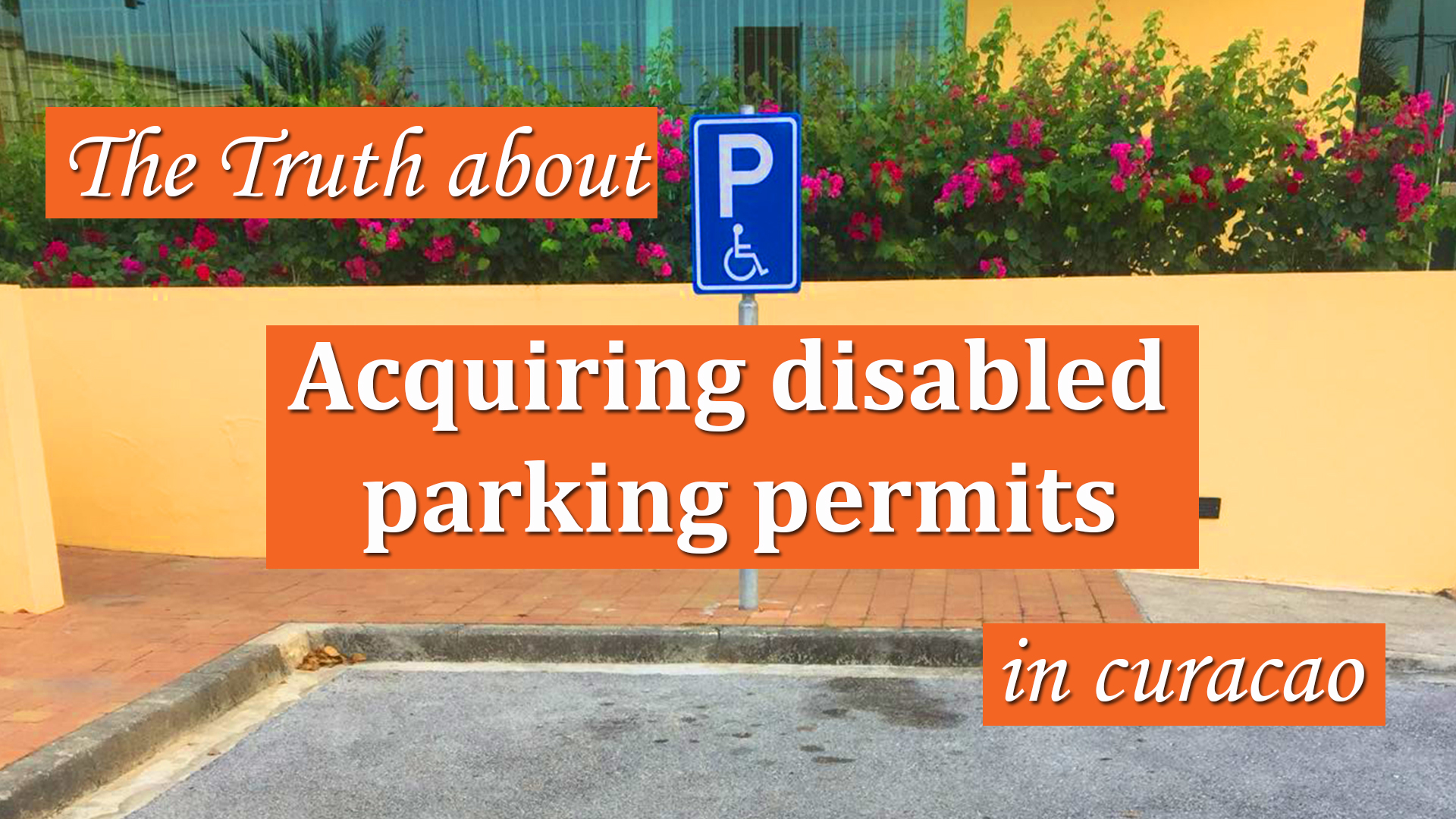 I was given one small task by the Alton Paas Foundation: Find out how to procure a handicapped parking permit. As Alton explained, people naturally assume his foundation either has the stickers available, or at least knows where to get them (They don't). But it's not as clear cut as you might think. He has been trying for years to make the government and public conscious of the need for enforceable laws to facilitate parking for the handicapped. Even though most establishments have handicapped parking spaces available, the signs are blatantly disregarded and people park in these designated spots without a second thought. Legally, the police can't even hand out fines to the offenders as it's not included in the National Traffic Ordinance…or so we all assumed…but I'm getting ahead of myself so, back to the task at hand.
It should have been simple enough; make some calls and get pointed in the right direction. But nothing was further from the truth. The more calls I made, the more confused and frustrated I got and the further from my goal I was directed. I started high up with the Ministry of Traffic and Transportation department but after spending the entire day calling non-stop and no one ever picking up the phone I diverted to the department I figured would be the best alternative which was 'Bentana di Informashon' (Information Booth for Government services).This time I at least got someone on the line but the information wasn't very helpful.
My first positive reply
I was told that handicapped parking stickers could be purchased at either a car accessory store or a drugstore but subsequent calls to numerous of these stores were all in vain; none of them carried the coveted permits.  One of the drugstores suggested I try:
Bookstores
Copy stations
Companies that print signs.
The bookstores and copy stations I phoned didn't have them but one of the printing companies said they could print out a handicapped parking sticker at my request. Bingo! I don't know how valid it would be to just have a random company print a permit but at least I got my first positive reply.
Parking stickers for sale
I decided to continue on my quest and see if I could find something a bit more official. I figured a change in venue was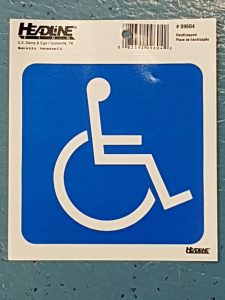 called for so for my next round of calls I focused on medical supplies retailers and hospitals. None of the stores I called had the stickers and one suggested I call an office supply store. The hospitals also didn't have them and had no idea where I might be able to purchase one. Calls to different supply stores yielded several strikes until I finally got a hit! Curaçao Office Systems actually has handicapped parking stickers in stock. They measure 15cm by 15cm and are Naf. 11.93 a piece. And yet, merely buying a sticker at a store; although a helpful alternative for those in dire need of a permit, it doesn't seem like this is the way it's supposed to work. After all, anyone could simply walk into the store, buy a sticker, affix it to their car and park in areas allocated for the handicapped. There had to be a more formal option which meant doubling back to government entities.
The Shocking Surprise
So, changing course once more, I decided to call the police department's traffic division. After a few missed attempts with no one picking up the phone, I finally got a very helpful lady on the line. She explained that I needed to go to the Driver's License Department located at Sta. Rosaweg for the permit. She furthermore informed me that I need to supply a doctor's letter. Finally! Something that seemed more official than just randomly placing a sticker on your car! She kindly looked up the number for me and I excitedly called the department, certain my pilgrimage had finally reached a successful conclusion.
To my astonishment the reply from the switchboard operator was: "This service is not yet available." Huh, say what?! "Ehm…excuse me? What exactly do you mean with 'not yet available'?", I asked exasperatedly. Well, according to the operator, this was something that had been regulated by 'Island Decree' and since the conversion of the island's status on 10-10-10 to 'Autonomous in the Kingdom', the 'National Traffic Ordinance' had not yet been included in the newly established 'Land-decree'.
I felt like I travelled all around the world only to end up in the exact same place: Nowhere.
Now I understood Alton's frustration. I'd only been a few days into my search and already I was feeling the futility of it all. Extremely disheartening. And yet, I couldn't give up. Alton hasn't and he's been at it for years. His persistence and dedication to bringing awareness about the rights of people with disabilities is commendable to say the least and we should all follow his example.
It was time to go big or go home!
I approached someone at the department of Legislation and Legal Affairs to look into the matter and to my surprise I was informed that since Curaçao's change in status, most laws have been integrated in the 'General Transitional Regulation Legislation and Governance'; including the regulations as stated in the 'National Traffic Ordinance'. This is where it gets a bit complicated with all the legalese, so please bear with me and pardon my rough translation and explanation thereof. Any mistakes made below are mine alone.
As per article 1, clause 1 of the General Transitional Regulation Legislation and Governance:

All national ordinances, decrees containing general measures and other decrees of regulatory nature of the Netherlands Antilles as well as island ordinances and island decrees containing general measures of the island territory of Curaçao in effect at the time of the introduction of the Curaçao Constitution, will remain in effect until they have been amended or revoked in observance of the Constitution.

Clause 2 states the following:

The provisions as stated in the first clause do not apply to the national ordinances, decrees containing general measures and other decrees of regulatory nature of the Netherlands Antilles as well as island ordinances and island decrees containing general measures of the island territory of Curaçao are included in the Annex to the ordinance.
However, the National Traffic Ordinance or more specifically, Article 51 of this ordinance which regulates handicapped parking, is not listed on the Annex. This means that all rules and regulations as set out in this article are enforceable by the designated entity.
The big question then of course becomes: Who is this designated entity?  According to Article 6 clause 10 of the General Transitional Regulation Legislation and Governance:
Wherever the Lieutenant Governor is mentioned, should be superseded with the minister assigned to the respective affair or an official to be appointed by said minister.
In a nutshell all of the above means that the Driver's License Department is still responsible for handing out handicapped parking permits just as they were supposedly doing since the decree was signed and published by Lieutenant Governor Lisa Dindial back in 2008. Only now they fall under the Ministry of Governance, planning & service, headed by Minister Konket. And sadly yes… the same entity that informed me that this service was not yet available!
So now what?
In the process of conducting my research I kept in contact with Alton to keep him abreast of the developments and for additional info and feedback since he's been on this challenging quest longer than I have. It's how I became aware of the existence of the 2008 publication of the laws for handicapped parking. Alton also put me in touch with Mable Da Costa Gomez of the 'SGR-Group'; a fervent fighter for the rights of people with disabilities. Mable explained that she had been sending emails since March of 2012 to the back then Minister Hensley Koeiman to which she never received a reply. Attempts by her to approach the Minister of Justice also yielded no results.
After updating her on the recent information I had gathered she offered to contact Minister Konket and forward to him all the relevant articles and publications to finally get this issue resolved.
I contacted Mable again right before wrapping up this article in the hopes of being the bearer of good news but unfortunately Minister Konket has yet to reply. All we can do in the meantime is wait…again.
Update!
Right after I finished writing this article Alton managed to procure a meeting with Minister Konket and Mrs. Ruthline Haddocks of the Civil Registry. During said meeting Alton was able to explain in detail the Handicapped Parking issue. Both Minister Konket and Mrs. Haddocks were very receptive of Alton's plea and promised to do their utmost to finally resolve the matter. They all brainstormed on the best course of action to take and it was agreed that Alton would provide a proposal of points to be taken into consideration. Of foremost importance is producing a suitable permit sticker to be used for the handicapped parking spaces and establishing legislation to enforce a fine for unauthorized use of these special parking spots.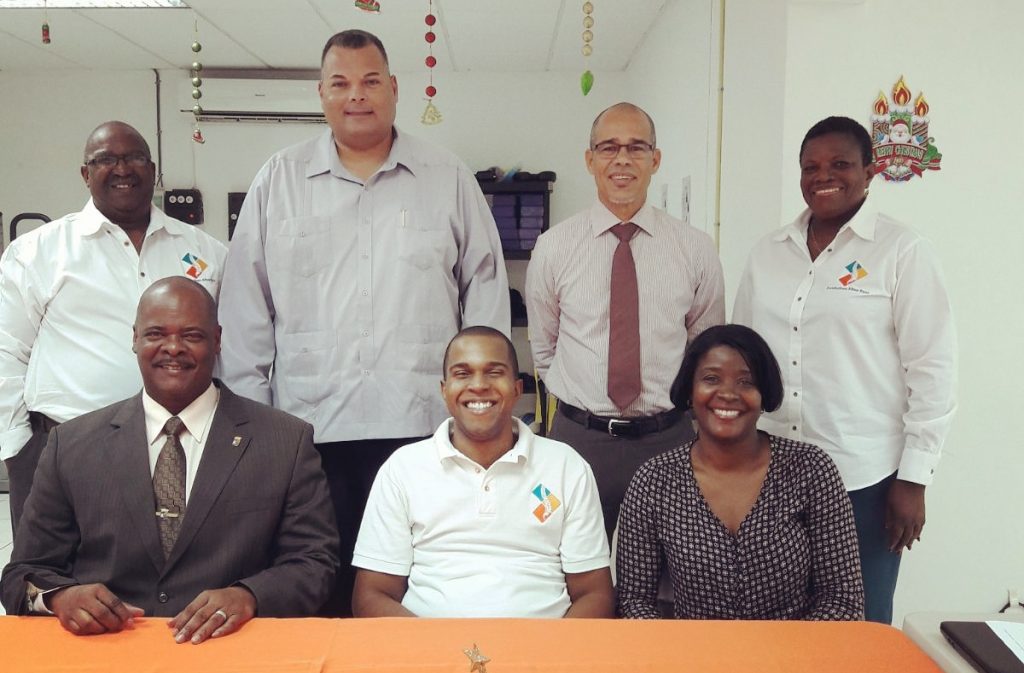 Soon after the meeting Alton sent an email to Mrs. Haddock in which he listed all the points discussed, as well as some additional questions that had come up such as the possibility of issuing permits for tourists with a disability visiting the island. Mrs. Haddock replied to his email thanking him for his input and promised to get back to him as soon as possible to finally get the ball running.
In the meantime I understood from Alton that the department is working on the issue and it will soon be available.
In conclusion
With these recent developments we expect the handicapped parking issue to finally be resolved, hopefully by early this year. But in the meantime, for those who want an immediate solution to the handicapped parking permit dilemma, I would suggest the following:
Purchase a sticker at Curaçao Office Systems or,
Have one made at a sign retail store
-Meanwhile all we can do is wait patiently for politicians to finally realize the need and urgency of the matter.
On a final note
Handicapped parking is common worldwide. It is the norm and not the exception.
It makes it possible for people with disabilities to become more independent because they can easily access all establishments, helping them form part of the community instead of making them feel like outcasts and practically imprisoning them in their homes. There is still a lot to be done on the island to make it wheelchair accessible but we can at least start with something as simple as a sticker. We have an opportunity, no, make that an obligation to do the right thing here. I firmly hope someone in our government reads this and takes it upon him or her to expedite the process. Then we can finally move on to the next challenge: Making all establishments wheelchair accessible!
Author:  Tamara Neuman