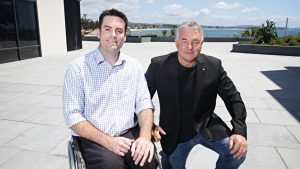 A  WORLD-FIRST resort and health spa for people with spinal cord injuries is nearing completion on the northern beaches.
The $22 million Sargood On Collaroy has uninterrupted views of the beach and includes 17 specially built, self-contained apartments.
The resort will be partly owned by the State Government's Icare, the Sargood Foundation and an unknown philanthropist.
Sargood Foundation director Rod Macqueen said the centre would be officially launched on Friday but would undergo trials before opening to the general public early next year.